on the central California coast. Here, your camping experience will include stunning views...and a location that feels "miles from nowhere" (but with all the conveniences of town just a few miles away.)
If you choose Montana de Oro State Park in central California, you don't have to make a decision. You get both!
Play on the beach, or hunt for tide pools. Then change up your scenery with a mountainside hike. Then, if you like, head back to the beach to enjoy the contents of your picnic basket on one of the park's benches.
What's next--kicking back at your campsite? Or maybe trying out one of the park's mountain bike trails? The pace is leisurely and laid-back in this beautiful and tranquil setting by the sea.






Tents, Pop-up campers, pickup truck campers, trailers and RV's up to 27 feet in length are welcome in the campground. Unfortunately, longer trailers and motor homes cannot be accommodated.




Although this state park has beach areas, the campground itself isn't down on the beach...but up on a bluff, instead. The beach is just a short walk (or drive, if you prefer) down the hill from the camping area.
Many of the campsites aren't shaded, and yet the open meadows are quite nice at Montana de Oro.
This particular campground now takes reservations for specific sites. (Formerly, they didn't take reservations for particular camping spaces; however, the demand for this park has grown, and reservations are now accepted---and needed---year round.)









Some amenities that are missing


Montana de Oro doesn't have flush toilets, bathroom sinks nor showers. That fact makes it a bit difficult for families with kids who come back gritty and salty from a day at the nearby beach. That doesn't mean families don't enjoy camping at Montana de Oro...but it DOES mean that you'll have to come prepared.

Be sure to bring water for drinking, as well, plus plenty of meals, snacks and drinks. There is no camp store on-site, which will mean a trek into town 5+ miles away if you need supplies. That's not a bad distance when something unexpected arises...but it would be really inconvenient if you needed to make several trips in a day.










Montana de Oro's other features you may enjoy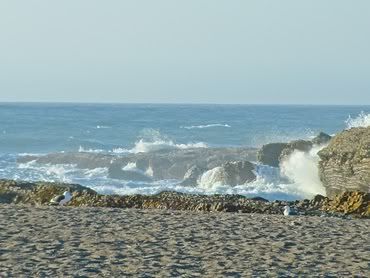 Beach at Spooner's Cove: Most people enjoy spending some time at the very scenic Spooner's Cove...which is handily close to the park's camping area. The water here is generally chilly, but that doesn't stop waders from enjoying the water and playing tag with the tides.
Montana de Oro is also famous for its tide pools where fascinated visitors avidly watch the sea creatures left "on display" by Mother Nature.
But mountain activities may also be enjoyed at the park, which actually contains more mountainous terrain than it does shore. You can enjoy hikes up into the pleasant hills...or even do some mountain biking here.
On fall, winter and spring weekdays, visitor turn-out is light, and you may feel a splendid sense of isolation and peace at Montana de Oro. The park's year-round mild climate makes it fine for camping year-round (although you'll want to bundle up at night; the temperatures drop sharply after dark.)
The most popular season for Montana de Oro camping is summer, when reservations are advised...especially for weekends and holidays. Although Montana de Oro's campsites fill up more slowly than Pismo Beach SP or Morro Bay SP, there are indeed nights when the campground is completely "sold out."






Montana de Oro Campground Details


In the Google Custom Map above, you can see where several features of the park are located, including Spooner's Cove, the main campground, and the equestrian camping areas. Some people have complained that the campground is hard to find. If you remember that you need to look up the hill from Spooner's Cove, then you won't have any difficulty finding it at all.
Reservations for the Montana de Oro campgrounds: Like other California state parks, Montana de Oro uses the Reserve California website. You can make your reservations straight from the site once you've decided the dates of your camping trip. Meanwhile, you can get plenty of helpful information about the campground. You'll be able to see a detailed, interactive map on their website to get an idea of the layout. If you haven't been camping here in awhile, you'll be happy to know that you CAN reserve the specific camping site that you want now! And if you haven't been to Montana de Oro, you'll be glad to know that Reserve California's interactive camping map will show you a photograph of each individual spot.
Here's a link to the www.ReserveCalifornia.com website. From Home Page, type "Montana De Oro SP" plus your camping dates, and you will be served a calendar showing the open campsites during that time frame. Unless you're looking for a walk-in environmental campsite, you'll want to book your spot in the Islay Campground, which is what the developed camping area at Montana de Oro is called. Dates with campsites still available will be marked GREEN on the park's calendar. The spaces marked with RED signify that those spots have already been reserved for that day.
Montana de Oro's campground isn't always as crowded as most of the other state parks in the area. Its relative isolation and lack of running water are two of the reasons. However, if you can't make your reservations 6 months ahead of time (which you may need to do at some of the most popular beach campgrounds in California,) you might still be able to make reservations 2-4 months ahead of time here at Montana de Oro. Or, if you're very flexible about when you can visit, then perhaps you can find a single space here or there even a week or two in the future. (Camping spaces are VERY tight in Southern California these days. If you absolutely can't find a camping spot at a public campground when you need it, you might wish to spring for a higher-priced private park.)
Camping prices at Montana de Oro State Park: Camping prices for the RV & tent campground begin at $35 per night. This low camping fee reflects the fact that there are no hookups, no flush toilets, and no running water. In fact, the website calls the camping spaces "primitive," but that's not really true. Many campgrounds would call these "developed" camping spaces, since you'll have a nice spot on grassy ground and a place to park your car. (If you're interested in reserving the walk-in spaces where there are no amenities at all, then these are called "environmental" campsites...which are sometimes called "primitive" campsites at other parks.)
Montana de Oro website: If you'd like further information on the park & the activities it has to offer you, here's a link to the Montana de Oro SP section of the California State Parks website.
Montana de Oro phone number: You may call (805) 772-6101 or (805) 772-7434 for questions you might have that aren't covered by the park's website.








Helpful links:   Family-Vacation-Getaways.com HOME ::   Latest News ::   Privacy Policy ::   Advertising Policy and Disclosures ::   Back to top of "Montana de Oro Camping"


Discover another enjoyable California campground:   Overview: Southern California camping overview ::   Beach Camping: Big Sur Camping ::   Carpinteria Beach Camping ::   Dockweiler Beach Camping ::   Doheny Beach ::   Huntington Beach camping ::   Morro Bay SP camping ::   Newport Beach Camping, ::   Pismo Beach Camping ::   San Diego Beach Camping ::   San Simeon Camping ::   Santa Barbara beach camping ::   Ventura Beach Camping ::   Desert Camping: Joshua Tree NP Camping ::   Lake & Mountain: Big Bear Camping ::   Castaic Lake Camping ::   Lake Arrowhead Camping ::   Lake Elsinore Camping ::   Lake Jennings Camping ::   Paso Picacho Campground ::   Outside of California:   Grand Canyon Camping ::   Las Vegas Camping ::   Mesa Verde Camping ::   Yellowstone Camping


Plan a different fun family activity:    Attraction discount tickets ::   Camping ::   Family Fun Centers ::   Hollywood fun ::   Parks ::   Road Trips ::   San Diego Fun ::   Shopping ::   Outlet Shopping ::   Theaters ::   Theme Parks ::   Water Parks ::   Zoos ::


Search our sites:




Custom Search